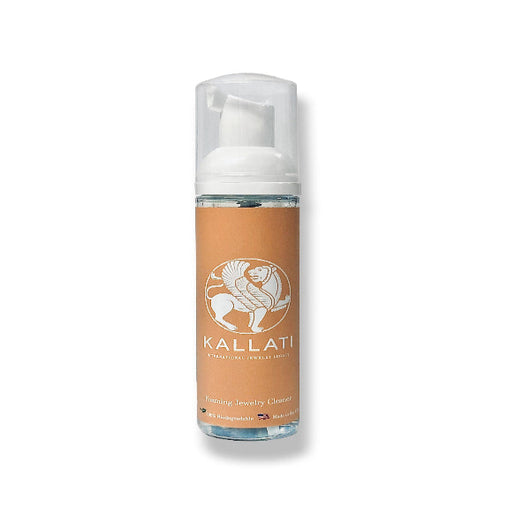 KALLATI Foam Jewelry Cleaner
Our KALLATI Jewelry cleaning foam is our #1 customer favorite product.  The foam is a special blend of bio-based surfactants that coalesce in a foam to efficiently break down the daily build up of grime and allow it to be easily rinsed away leaving nothing but sparkle and shine.
The foam is dispensed through a non aerosol pump so there are no propellants to damage our ozone layer.
All Kallati Products Come with a Limited Lifetime Warranty. More Info
The Kallati Promise

worry free
buying
We at Kallati want you to be completely satisfied with your order. If for any reason you are not satisfied with your online purchase, you may return items that are unworn, unaltered and free from scratches and blemishes for a full refund, exchange or merchandise credit within 30 days from the date of shipment.

by women,
for women
Today, the Kallati sisters, Reout and Orly, are the brand's chief executives, chief designers and brand ambassadors. They take great pride in continuing their family heritage as modern stewards of a fine jewelry legacy and are equally proud to add Designed by Women, for Women to the Kallati brand's existing credibility and design aesthetics.

ethically sourced
legacy quality
Every piece of Kallati is forged by hand and designed to last for generations to come. We have coined the term Legacy Quality to illustrate the meticulous attention to detail and the highest possible industry standards for crafting and sourcing ethically sourced diamonds.

Our Leadership
We want women to be proud of what they wear everyday - find out what drives us forward.
Meet The Kallati Sisters